The 10 Best Holiday Events in Baton Rouge this Weekend!
The holidays have arrived in Baton Rouge!
Not only do we love this time of year, but we love seeing all of the gorgeous lights and decorations around town. Whether you're just visiting or have lived here for your entire life, there are a few holiday events that you must participate in to get you in the holiday spirit!
First Annual Southern University Christmas Tree Lighting Ceremony
Come out and celebrate Christmas at Southern University. Join in with the Christmas spirit at the first annual tree lighting ceremony that will be held in the Tony Clayton Plaza on Southern's Campus.
Southern University
December 5, 2019
Time: 6:30 PM to 7:30 PM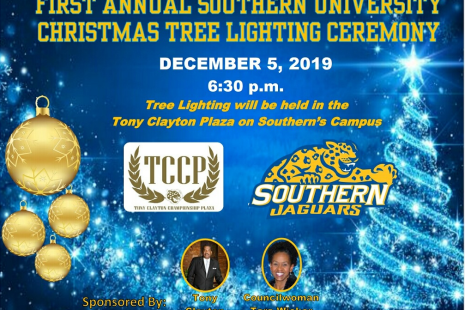 Reindeer Ride
Farr Park Equestrian Center
Welcome the holiday season with a unique nighttime family bike ride. We will ride up the levee from Farr Park campground to downtown Baton Rouge for Baton Rouge's Downtown Christmas Lighting Celebration. Participants will leave the levee trailhead and join in a colorful bike parade through the downtown area, partake in the holiday festivities, then return to Farr Park together. What better way to start the holiday season than with this event!
Friday, Dec 06, 2019 5:30 PM - 8:00 PM
Ages:8+
Cost
$5 bike rental
For More Information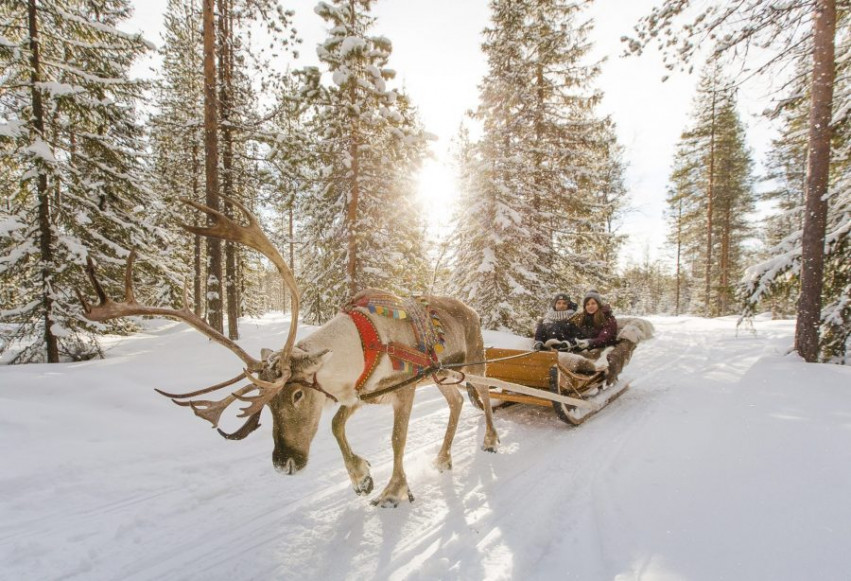 Festival of Lights
Downtown Festival of Lights Presented by Downtown Development District, The City of Baton Rouge, and the Arts Council of Greater Baton Rouge

Experience the magic of the holiday with the lighting of the 35-foot Christmas Tree and fireworks at North Boulevard Town Square. Enjoy free ice skating, play in ten tons of real snow at the Snow Village, see holiday performers, face painters, a balloon artist, stilt walkers, and of course....SANTA! Check the list of events at the Snow Village, Santa's Gift Shop, Open Houses, and more! More information visit .https://downtownbatonrouge.org/discover-downtown/events/festival-of-lights.
200 North Boulevard Baton Rouge, LA 70801
North Boulevard Town Square
December 6, 2019
Time: 4:00 PM to 9:00 PM
(225) 389-5520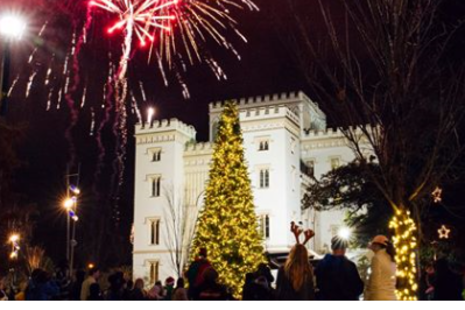 Text with Image Object
Classic Christmas TV Specials in the Hartley/Vey Studio Theatre

This FREE event is part of the many fun activities featured with the Downtown Festival of Lights throughout North Boulevard Town Square. Presented by the Arts Council of Greater Baton Rouge

We play some of our favorite, family-friendly, Christmas Specials on our large screen.

Our Full Bar will be open in the Hartley/Vey Studio serving snacks, hot chocolate, popcorn, soft drinks, and ADULT BEVERAGES. All beverages (including alcohol) are allowed "to go" and can be enjoyed while you walk around the many outdoor festivities.

Entrances to Hartley/Vey Studio Theatre are located on North Boulevard and from inside the Shaw Center for the Arts.
100 Lafayette Entrances to Hartley/Vey Studio Theatre are located on North Boulevard and from inside the Shaw Center for the Arts. Baton Rouge, LA 70801
Hartley/Vey Studio Theatre
December 6, 2019
Time: 5:30 PM to 8:30 PM
Price: Free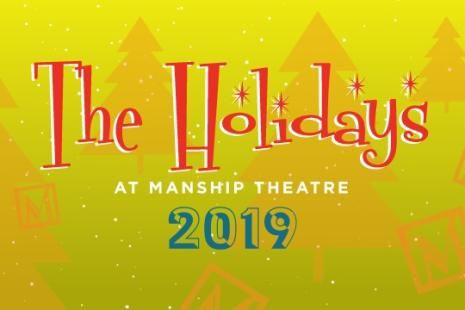 Santa in the Senate
Guests are invited to the Louisiana Old State Capitol for a special photo-op and other holiday festivities. Louisiana's Old State Capitol will host their annual "Santa in The Senate" on Friday, Dec. 6 from 6:30 P.M. to 8:30 P.M.
Guests will have the opportunity to take their photo with Mr. & Mrs. Claus in the old Senate Chamber and then enjoy a Christmas film in the old House Chamber.
Guests are encouraged to bring their own cameras or cell phone to take pictures. There will be arts and crafts for children to partake in and a special treat upon exiting the building.
Friday, December 6th 2019
6:30-8:30 p.m.
All ages
Free
Please bring your own camera, photos not provided.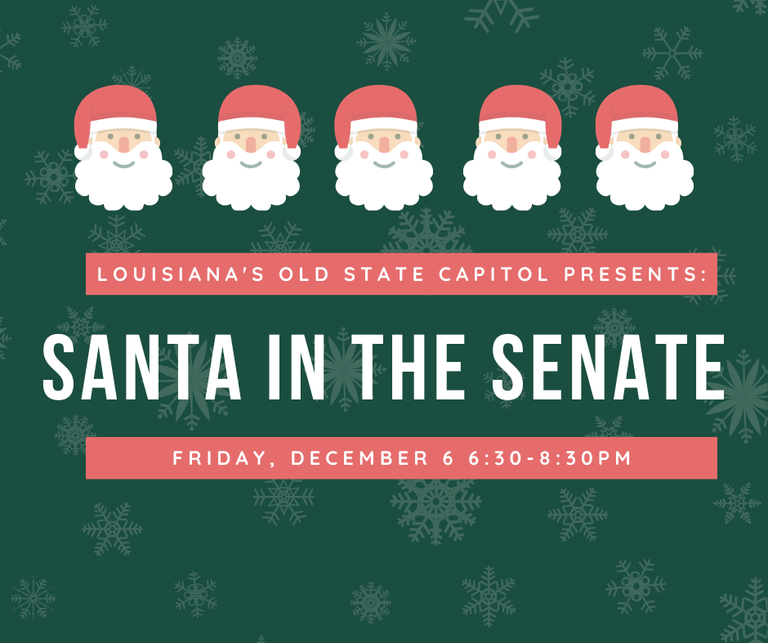 STORYTIME IN THE GARDEN (CHRISTMAS AT BURDEN)
StoryTime in the Garden is a creative way of mixing storytelling and imagination with hands-on craft activities for children. The program meets one Saturday a month September through April from 9 a.m. - Noon. Children ages 3-8 can enjoy storybook readings and imagination-themed activities every half hour. All children participating in the program must be accompanied by an adult. The last reading begins at 11:30. Registration is not required.
Cost: Included in admission to Christmas at Burden
Categories: Kids & Family | Holiday | University & Alumni
December 7, 2019
Louisiana State University and A&M College
3357 Highland Road
Baton Rouge, Louisiana 70808
Zoo Lights
A festive mile-long trail through the Zoo with more than 50 illuminated display sculptures of animals and traditional holiday displays.
Admissions open 5:30 p.m. to 8 p.m.
Zoo grounds close at 9 p.m.
Closed Christmas Eve & Christmas Day
ZOOLIGHTS IS:
A mile-long trail through the Zoo
More than 50 illuminated display sculptures of animals and traditional holiday displays
A festive family activity, adding to the quality of life for residents throughout the region
The beginning of a new tradition
This year at ZooLights:
LIGHTED DISPLAYS WILL INCLUDE THE FOLLOWING:
ILLUMINATED SCULPTURES: Visitors will find illuminated sculptures representing animals and traditional symbols of the holidays.
GIANT SPECTACULARS: Larger-than-life displays capture the imagination of children of all ages. These displays may include: Flamingos, Giraffes, Lions, Tigers, Gorillas, Rhinos, Elephants, Alligators, Giant Santa, Giant Snowmen, Holiday Trains, Santa in Sleigh pulled by Giant Reindeer and Toy Soldiers. Displays can be up to 30 ft. tall!
ANIMATED SPECTACULARS: Animated displays add additional entertainment value to our event. The use of high-wattage, computer-controlled displays will provide exciting animation to displays.
VISITOR AMENITIES: Safari Photo Booth Seasonal Specials from the Flamingo Cafe Safari Post Gift Shop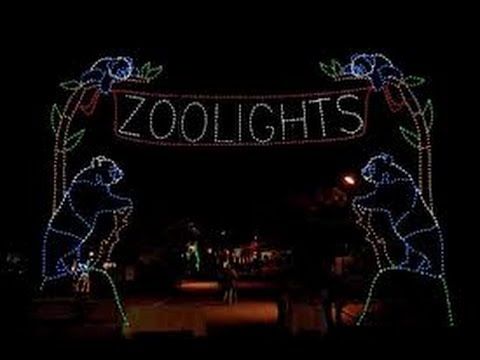 The Polar Express in the Planetarium
Louisiana Art & Science Museum
All aboard The Polar Express! Wear your holiday PJs and bring your family and friends to enjoy this beloved holiday movie like never before in the Irene W. Pennington Planetarium, and warm up with complimentary hot chocolate before each show.

This event is included in general admission, $12 for adults and $10 for children (ages 3-12) and seniors (65+). LASM Members are free!

Sponsored by Baton Rouge Coca-Cola Bottling Company
Upcoming Dates:
Saturday, December 7, 2019 at 4:00pm
Sunday, December 8, 2019 at 1:00pm
Saturday, December 14, 2019 at 4:00pm
Saturday, December 21, 2019 at 4:00pm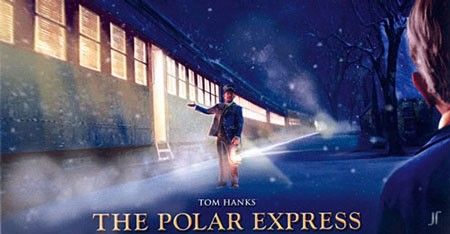 Christmas on the Boulevard at the Boulevard
Christmas on The Boulevard
Join the Mall of Louisiana retailers, community partners, and of course Santa on Saturday, December 7th at 6pm, as we celebrate the holiday season. Enjoy fun activities, live music from Ned Fasullo and his Fabulous Big Band Orchestra, and the lighting of our Christmas tree.
Nothing says "The Holidays" more than giving back. Help us give back to those in need by filling up the Salvation Army Food Pantry for the holidays! Each child that brings 2 non-perishable food items to the Salvation Army tent, located near the big tree at the center of The Boulevard, will receive a FREE carousel pass.
Hope to see y'all there!
Mall of Louisiana
Sat, Dec 7: 6pm – 8pm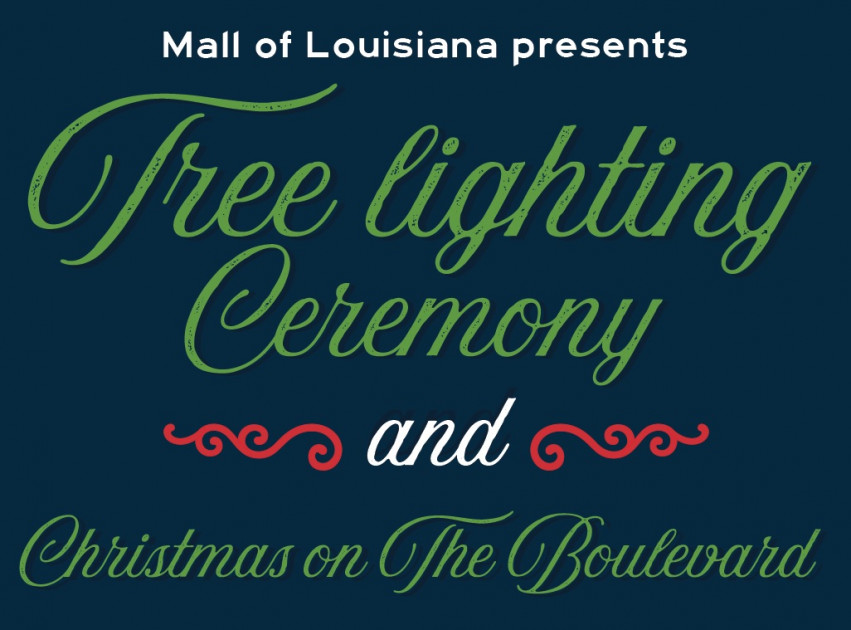 Home for the Holidays- Special Concert
Baton Rouge Symphony
BRSO Chorus
David Torns, conductor
David Shaler, chorusmaster
Amy Bouchard, mezzo-soprano
Everrett Parker and The Greater Baton Rouge Interfaith Ensemble
Our fabulous BRSO Chorus joins us for this annual holiday performance to make your season merry and bright! Making her first appearance in Baton Rouge is mezzo-soprano Amy Bouchard along with a returning red-stick favorite, The Greater Baton Rouge Interfaith Ensemble led by Everrett Parker.
This concert will feature seasonal melodies and music from favorites like Polar Express, Home Alone, The Nutcracker, and Sleigh Ride. Ring in the season with the biggest carol sing-along in Baton Rouge, and make this concert an annual tradition for the whole family!
Sunday, December 8, 2019
7:00 PM 8:00 PM
Istrouma Baptist Church10500 Sam Rushing DriveBaton Rouge, LA, 70816United States